The 2021 Instagram algorithm is different from algorithms of the past but there's good news: understanding what you need to do to grow on Instagram right now is more clear than it's been in a long time. Accounts that are growing fast are doing these three things, consistently. Here's the breakdown, with some actionable tips about the easiest way to get started.
Save-able.
Saves are the new shares and carry the most weight when it comes to Instagram's evaluation of your account and how much reach your account will be given. This means you want to publish content that your audience will want to save for later. If you're wondering how the heck you're supposed to know what someone will want to save, there are two key categories that are going to drive your audience to save your posts: education and inspiration.
For the education category, it's not about a long-winded lecture. It's about snackable, short, sweet and actionable tips that will tangibly help your audience when they implement your tips. This drives their desire to save the post for later.
For inspiration, we want bold content that resonates with your audience. The good news is that the message matters so much more than the design. I tested this assumption in this post, insisting that we keep the design as basic as possible to see what happened. This is the most saved post my account has ever published. In fact the save rate is 2.5% (beating the 1% industry average for overall engagement) and the engagement rate was 44%. It took me five minutes to create this post by dropping a quote from a blog post I had recently written into a standard Canva font.
Swipe-able.
This is about gallery posts: The algorithm loves it when a user swipes all the way through your gallery. There are two ways to think about it: One is a bold inspirational statement with varied styles so that a user can swipe through and grab their favorite color scheme to share on their own channels. The other method is stretching out an educational post (or storytelling) to span over several frames, with a clear design that helps a user identify in a nanosecond that they should swipe to get the full story (small arrows pointing to the right will do the trick).
Reels.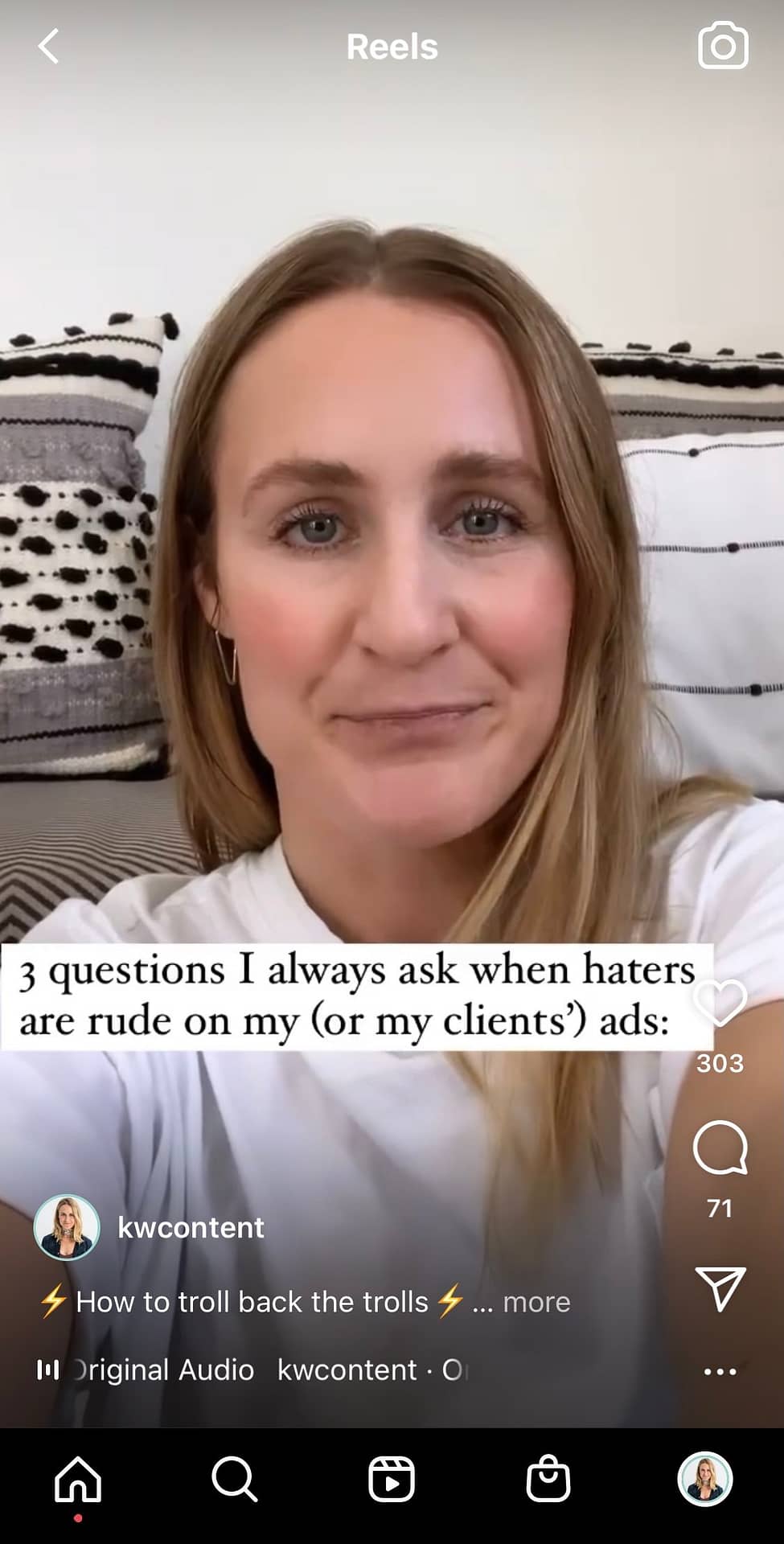 It's no secret that Reels are being favored on Instagram, the trick is identifying how they fit into your brand. This is a great place to flex founder personality, not take yourself too seriously, and have some fun. If you're unsure where to start, look back at your past content (especially at your blog if you have one). Where have you provided advice, education, or value to your audience already? How might you take the exact same content and repurpose via short, snappy sentences? You can deliver by YOU saying these things to the camera, or showing relevant video visuals with text overlay. Product brands can look at how they educate their audience about their products and repurpose in this format! If you're working with content creators, ask them to start experimenting with Reels and provide a few in their next batch of content!
Instead of overcomplicating it, start by repurposing content you already have into these new formats to make it easier to get started and then take it from there.
Helpful? Make sense? Let me know what questions you have!
In your corner,
Katie