If you're a small business owner feeling bombarded by "REELS OR BUST" messaging, this blog is for you.
Instagram Reels launched to 50 countries in August 2020. It's a feature within the Instagram platform that offers a space for accounts to post short videos (up to 60 seconds long) showcasing product, personality, and boosting sales and brand recognition. Users can add sounds, effects, filters, and more to the videos to boost engagement and reach. With 60% of internet traffic revolving around video, it's no surprise that some folks are finding success and faster account growth as a result of implementing Reels. Head of Instagram, Adam Mosseri, released a video in which he, now famously, said, "We're no longer a photo-sharing app or a square photo-sharing app." This basically means that with the addition of Reels, Stories, IGTV, and more, the platform is becoming more video focused. Then, as if we didn't have enough on our plates, influencers are basically telling us that if we don't show up on Reels everyday, we'll be left behind. 
I've been in close contact with our Strong Brand Social students through all of this. For some, even the mention of "Reels" is enough to trigger overwhelm. 
Here's the truth: Reels and other short form videos will not make or break your business because they're solving only one problem: vanity metrics (follower count). There are other ways to boost those metrics and more important things to focus on. 
My team and I did some research and found both world-renowned and up-and-coming brands that are completely ignoring the hype and still finding out-of-this-world engagement and business results. By the end of this blog, our goal is to show you why you shouldn't stress about Reels, give you examples of brands out there that aren't getting caught up in the chaos, and a few low-lift ways to play around if you do want to take the plunge. 
Case Studies
Case 1: Two sun lotion brands, one using Reels and one not, have a large difference in audience size. Yet, the smaller audience attached to the brand not using Reels has greater sales.
Case 2: Here are a few examples of world-renowned brands that aren't even touching Reels, in case it makes you feel better!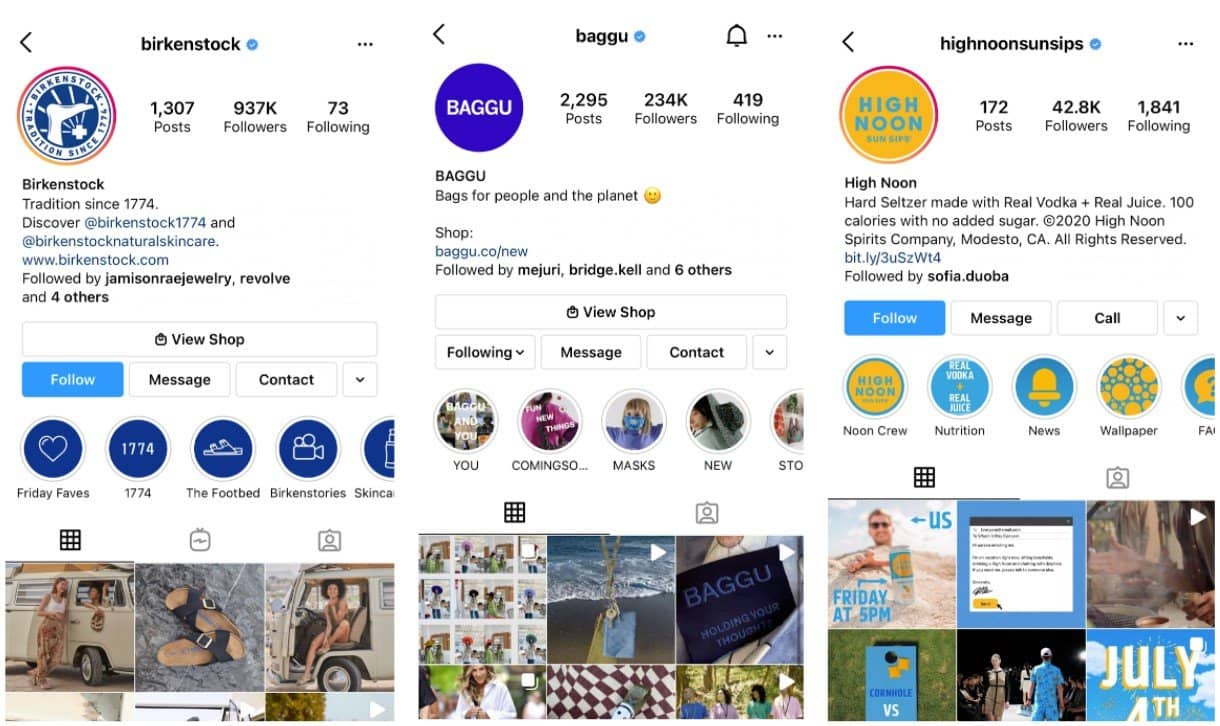 If you DO want to take the dive into making Reels
FIRST THINGS FIRST: You may have noticed that when you go to add music to a Reel on your business account, you don't have access to popular sounds. This is due to copyright restrictions from Instagram. We have found a super easy hack to get around this! Categorize your profile as an "entrepreneur account" on Instagram: Selecting this option does not change anything about your account, it will not affect how your audience sees your profile and you will not lose access to any tools or features. Changing your category takes less than 1 minute and gives you access to popular music. Check out our tutorial to see how to do this!
Next, here are examples of brands using Reels and how you can replicate those reels in an easy, efficient, and low-lift way. 
Start to finish process: Take your customer behind the curtain and show them how the magic happens! Record the entire process your product or service takes to get to its finished result and then make it a timelapse so that it fits into a 30 second Reel. These videos are notoriously satisfying to watch and keep your viewers attention to the end. Check out this example from @thehomeedit and a tutorial from us that demonstrates how you can make your own timelapse for Reels. 
The people behind the brand: Who are your team members? What do they do? Introduce the humans that make your business a reality by giving a quick spotlight or overview of the roles that keep your brand's wheels turning. Check out this example from @citizencider and a tutorial from us on how to create a slideshow for Reels.
Before and after, or showcasing multiple products: Who doesn't love a good transformation? Show us what your service can do by contrasting the starting point with the end result achieved through using your business. Same deal here for product-based businesses, what kind of transformation does your product adhere to? What happens before and after using your product? Check out this example from @madewell and a tutorial from us to learn how to make a transition on Reels (i.e. when she hops and changes clothes). 
Before you dive headfirst into making reels your top priority, reflect on your brand and evaluate if you feel you have a strong enough digital ecosystem to start branching out into new formats and platforms. Remember that the social media marketing industry is a little like the dark underbelly of the beauty industry: Creating problems that don't exist in order to sell you more stuff. ⁠Because this market thrives on what's new, it gets LOUD around emerging features, but in the past year I've witnessed hundreds of brands use social media to significantly grow their business without posting every day and without touching Reels. 
What you need *SO MUCH MORE* than daily Reels is a digital ecosystem. A coherent brand story that systematically attracts your people, sells your stuff, and drives them to tell their friends about you. A social strategy that plugs into your website, into your email, and so on for a smooth experience that puts your customer at the center and gives them exactly what they're looking for each step of the way. ⁠Building a healthy and solid digital ecosystem is more important than anything else and should still be your #1 objective if you want to grow your business!

Seeking more help with Reels? Check out the replay from our live event here where we discuss more brands and their Reels strategies, how Reels fits (or doesn't fit) into your content strategy, and give you some easy ways to start making Reels. You first need to join our free community for access to the replay.