This time of year is an especially important season to be mindful about how we spend our money. If you're like me, you want to vote with your dollar by supporting companies that prioritize the planet and our people over profit. Organizations that share your values, invest back into their communities and contribute toward the future we wish to see.
This year's Strong Brand Social Gift Guide represents thoughtful gift ideas for our community, by our community. These brands, all of which we can vouch for personally, are the real deal: powered by mindful supply chains, ingredients with integrity, CEOs that center justice, and business models that give back. To top it off, the products are world class and guaranteed to please.
Zandra Beauty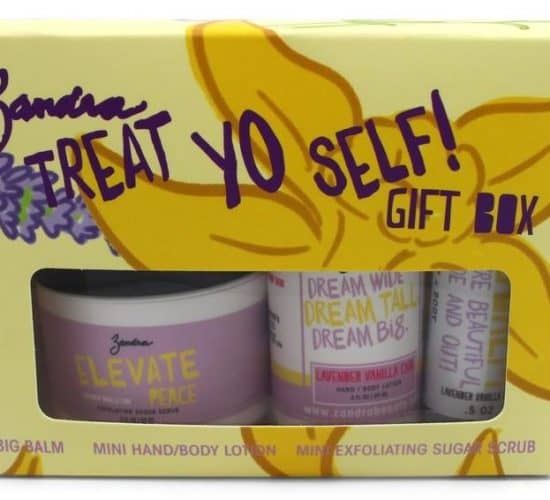 The Treat Yo Self Gift Box
Retail: $24.99

Zandra Beauty is the passion project turned do-good empire dreamed up by Zandra Cunningham when she was just 9 years old. A decade later, Zandra is a plant-based (no icky stuff!) natural bath and body brand for the empowered girl on the move – found in stores all over the country, to boot. Her Lip Balm is a great long-lasting, on-the-go moisturizer, especially as we head into the colder months of the year. If your skin cracks and dries out like mine at the first sight of frost, the Exfoliating Sugar Scrub can really help with skin irritation, even effective on eczema and psoriasis. And to round out my favorite-named gift box of all time, the Hand & Body Lotion is non-watery, long lasting and light weight.
Bare Hands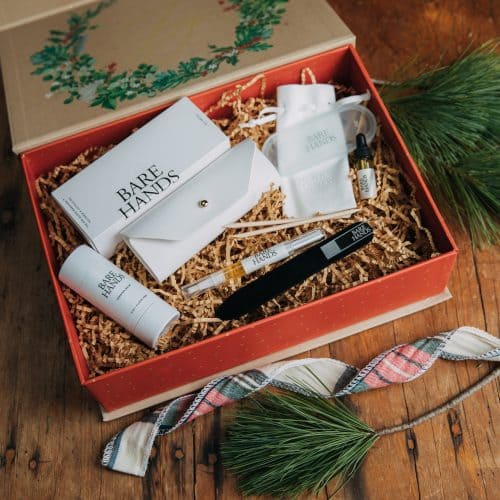 The Bare Hands Gift Set
Retail: $48

After 2 years of development, founder Suzanne Shade has perfected a natural nail method that's not only healthier for us and the planet, but gives us an easier way to care for ourselves. For the many of us that spend time working with our hands in studios, kitchens and offices, the care of natural nails provided from Bare Hands is a big win.
Featured in The New York Times, Hypebae, Goop, and Martha Stewart Living, it's unanimous: Bare hands offers everything you need for a complete salon buff mani & pedi at home. The Dry Gloss Manicure kit consists of The Polisher, a cuticle oil pen (in citrine or unscented), a chamois cloth and two orange wood cuticle pushers packed in a chic, vegan leather case. The gift set includes a limited edition Forêt oil and a Czech crystal nail file for perfect shaping. And my favorite part? It's all packed in a cozy lil' flannel pouch!
---
Blue Heron Soaps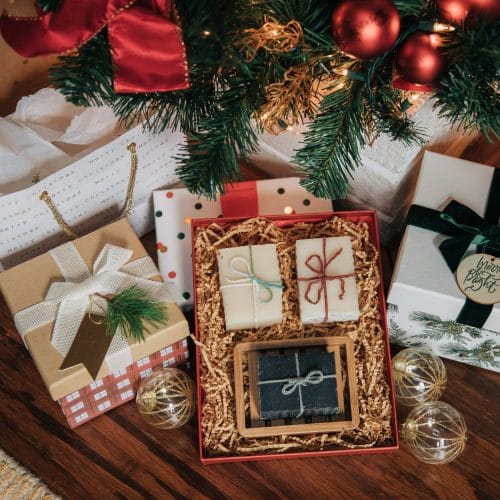 Eco Gift Set
Retail: $38
Blue Heron Soap Company has been nourishing bodies with natural hand-poured soaps since 1995. Running on solar energy, there's a bit of added sunshine in every bar. They also contribute a portion of their profits to benefit their local food shelf, a primary school in a small village called Kitui in Kenya, and other efforts to support BIPOC voices in business. The shea butter used in the eco soap is fair trade, raw and organic, and sourced in Ghana, directly supporting the women in that community. The eco soap bars are then produced by hand in the great city of Minneapolis, Minnesota, offering their customers a zero-waste, environmentally friendly option to standard bath soaps. The bars are slipped into a clear, 100% compostable bag made of cellulose fiber and decorated with a hand-tied bow made of cotton string. A handwritten card makes this a special gift for any occasion! The eco soaps to choose from include Lavender Rosemary, Charcoal and Colorado Breeze, Chamomile Tea & Honey, Blizzard, Desert Rose, Lavender, Lemon & Honey, Neroli Clay, Patchouli, Peppermint & Oatmeal, Rosemary & Sage & Lavender, Tea Tree.
Conscious Homestead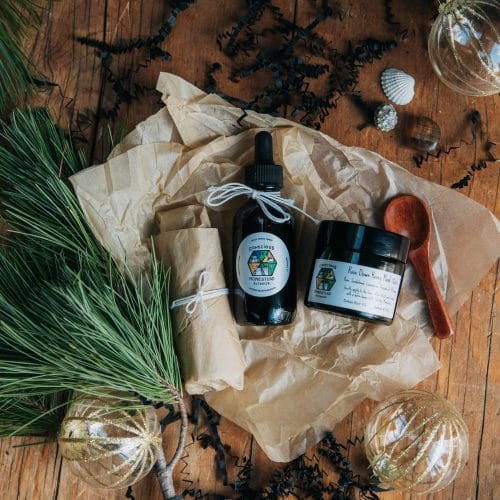 Floral Fields Shimmering Body Oil
Retail: $22.50

Conscious Homestead is a BIPOC Urban Farm and Wholeness Retreat in Winooski, Vermont stewarded by Candace Taylor. Candace's vision and commitment is to co-create a space that is rooted in healing ancestral connection to the land while centering BIPOC wholeness and collective liberation. The physical space of the homestead is a lush and beautiful haven, tucked away in Candace's backyard. Approaching all that they do—from creating medicinals and herbal products to teaching yoga, practicing Reiki, and leading workshops on growing food and medicine—with a deliberate spirit that challenges the pace and way we think about everything from business to living, Candace's impact on our community and culture has been immeasurable. Floral Fields (2 oz.) is a shimmering body oil infused with homestead-grown(!) calendula, chamomile, yarrow, mint, rosemary, lavender, peony, arnica oil, lemongrass infused avocado oil and gold mica. Just one of the products in the Body – Skin – Hair line, Floral Fields is the perfect massage oil for giving the gift of relaxation and presence. NOTE: The online shop will pause for holiday orders on Friday, December 3rd through January 7th. That said, this might be the perfect new year gift that 2022-you will thank you for! 
Jill Turnbull Beauty
PERFECT HAIR Collection
Retail: $99

With 45 years of professional hair styling experience all over the globe and a childhood steeped in the wonder of the Australian Great Barrier Reef, Jill Turnbull Beauty provides ocean-safe, performance-driven beauty essentials that nourish hair, skin and body naturally. Featured in Editorialist and Coveteur for their work in the "Blue Beauty" movement, Jill Turnbull Beauty is passionate about reversing the beauty industry's tremendous negative impact on the environment, and the marine environment in particular. The 5-piece PERFECT HAIR set is a one-stop-shop for replacing everything that's missing from the inside of the hair. They all work together to eliminate split ends, fly aways, frizziness, undesired texture, lack of body and dull hair. And my favorite part? It reduces water waste by rinsing out in seconds, and comes housed in a cute reusable cotton pouch with full sizes of each product.
---
Brody's Crafted Cocktails
Cocktail Sampler
Retail: $75

Inspired by the spirit of their founder's first life-of-the-party puppy, Brody's offers a customizable craft cocktail experience that encourages people to celebrate the everyday. Brody's cocktails are made with high-quality, natural ingredients for consistent flavor and balance, pour after pour. Brody's expertly blended cocktails are best enjoyed chilled; topped with champagne, sparkling wine, club soda, tonic, ginger beer, or on the rocks. Suggested ratios are located on the back of each label, but in our personal experience starting at a 1:1 ratio for any of the cocktails (can confirm: they're all delicious) is a lovely way to go. Each purchase helps pets in need, as up to 5% of their proceeds go to support animal organizations. 🐶🥂
Shop Brody's Crafted Cocktails
Mountain Chalet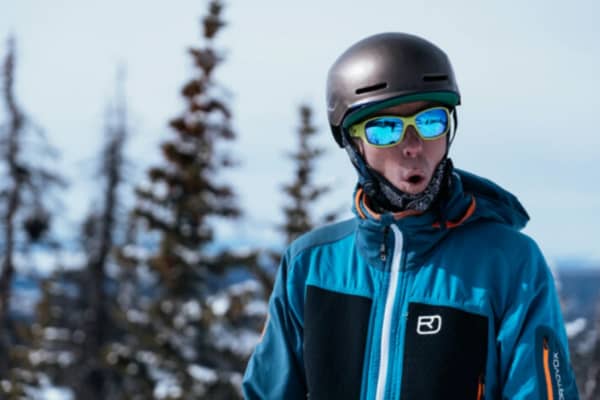 Mountain Chalet Outdoor Gear
Retail: $1.69 – $1.999,99

Since 1968, Mountain Chalet has staked their business on a passion for the playful and a real excitement for their customers that's made them the outdoor equipment leader in Southern Colorado. Their transition and complete adoption of the digital wing of their business has led to new customers all over while not losing a beat at their true-to-their-roots local brick and mortar in Colorado Springs. If you have an outdoor equipment need of any kind, Mountain Chalet is sure to have what you need with 1,200+ items in stock! No matter where you're located, if you're thinking about venturing further into the backcountry or exploring the edges of your comfort zone CALL THEM FIRST. Their team is unparalleled when it comes to matching you up with the right gear that will stand up. They know their products, love their community and pride themselves on maintaining an exceptional expertise on everything from chalk bags to ice picks. If you're looking for a shop where you know that the people working there know exactly what they're talking about, give Mountain Chalet a call.
Ventura Spirits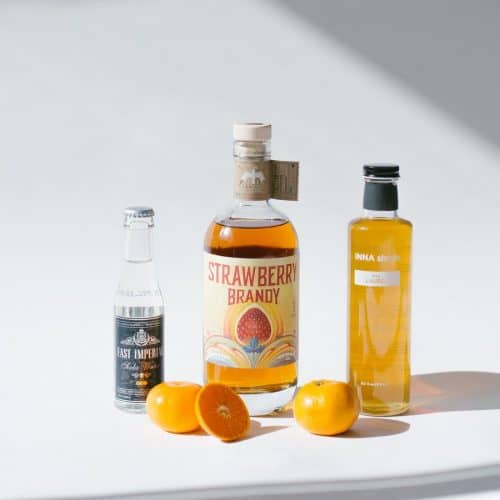 Ventura Spirits Cocktail Kits
Retail: $25-$35

The Ventura Spirits mission is to use the natural and agricultural bounty of California's central coast to hand-craft novel and delicious spirits. Their approach to distilling poses a challenge to the Ventura team as owner-operators and to their customers to be more curious, more creative and better consumers of distilled liquors. Ventura Spirits Cocktail Kits: Opuntia "Paloma Picosita," Strawberry Brandy "Ojaiball," Haymaker's + Limoncello "Limon Collins," Bees In The Wild If you've never been to Ventura, California, but you'd like to, even in spirit(s), these delicious, thoughtful cocktail kits are your ticket to ride. All four of these kits aim to contribute to the regional spirits tradition of Ventura with products that foster a strong appreciation for their area of the world. While I've not yet set foot in Ventura, I'm already down for another round.
---
ZenBarn Farms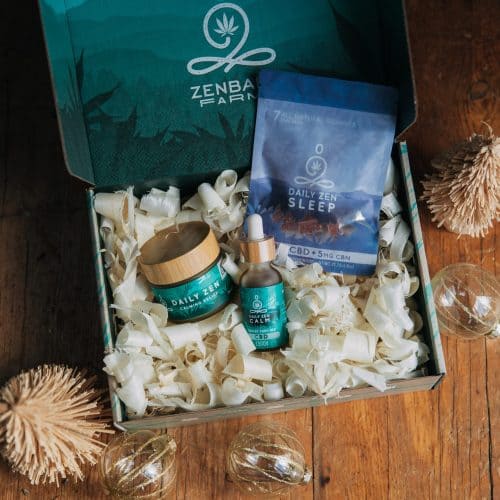 Calming Terpene Enriched Tincture
Retail: $59.99

Zenbarn Farms is owned by the husband and wife team of Noah and Marlena Fishman, who have grown the Zenbarn brand from family farm to restaurant to cannabis product line and physical store. Having pioneered the first CBD-infused food and drink program in Vermont, the Zenbarn Farm motto is "Feel good, Do good." because once you feel good after using one of their CBD products, they do good by donating 1% of their profits to social and environmental causes. Zenbarn Farms has been able to create products and experiences that capture the community and magic of Vermont's incredible natural beauty and resources. What's more, their work with the Cannabis Equity Fund supports BiPOC access to the cannabis industry, which is an essential piece that every cannabis consumer has a responsibility to support.
Looking for natural relief for stress and anxiety? Look no further than the Calm CBD Tincture, made using sustainably-grown Vermont hemp and enriched with botanically-derived terpenes targeted to promote a relaxed headspace. The Calm tincture will help you take the edge off after a stressful day. Rich with terpenes such as Limonene, Myrcene, and Pinene, this tincture is both delighting to the senses and fast acting, ensuring quick relief and relaxation.
We hope you've enjoyed the Strong Brand Social Gift Guide! 🎁 Grateful doesn't begin to describe how we feel having the opportunity to serve and support over 12,000 small businesses inside of Strong Brand Social over the past 20 months. More important than any marketing strategy or knockout KPI is that we've had the privilege of cultivating a community of brands with shared values, creating a ripple effect that reaches far beyond our work together. We'd need an unlimited amount of space to shoutout allllllll of our favorites, so today we've highlighted a few that we have the privilege of working with 1:1 and therefore know firsthand the depths of their big-heartedness and mission to make the world a better place (plus a few favorite local Vermont gems)!
Cheers to joy and life together 🙂
In your corner,
Katie