It's 6pm on the Wednesday night before Thanksgiving, November 2013. Tucked upstairs in an empty corporate headquarters in Burlington Vermont, I'm finalizing every last detail for the next five days of social media content. I'll still have to publish posts and keep the community engaged throughout the holiday, but I want to take the closest possible thing to a vacation. I'm determined to stay one step ahead of any unforeseen obstacles that could undermine my precious time off—you know, like when you go to upload a video, there's an issue, and now you've lost an hour or more reformatting it (all the while, stressing that you're missing the most time-relevant publishing window)?! 
When I text my mom to say I'll be late for our family dinner, I cry at my desk alone in the dark. Most of my coworkers took the day off and if they didn't, they left by noon to gather with their families. Anyone who works in social media knows how this goes. We put so much more into this than what meets the eye.
On this same evening, I also know that I'm willing to do whatever it takes to make sure our brand is well-repped and connected to our community. Fast forward eight years and I've noticed other unifying tendencies of great social media managers: 
Self-motivation, commitment to high quality work, courage to do work that's on display and critiqued by everyone with an amateur opinion, willingness to put yourself at risk of failure in front of others, success closely tied to an ability to communicate well … 
Also: 
You care so damn much, it's hard to turn it off…
Boundaries are foreign objects…
You might subconsciously align your self-worth to productivity and output…
My team and I spend a lot of time talking about mental health because our careers put us at an increased risk of burnout and the negative effects of social media. Same goes for everyone who is interested in this article, from social media managers to those that manage them, marketing freelancers, and small business owners working to implement social media programs. 
If you're at increased risk of social media-induced anxiety, depression, and burnout, you can manage that risk by increasing your investment in your own mental health. 
This can look like anything that improves your livelihood, like increased attention to this topic so that you can simply commit to unplugging, or therapy, hiking, mindset coaching, journaling, and reading. It can also look like creating strict rules that help you curb your risk. For example, approaching your brand's social media with day-off boundaries in mind or only working with clients that care enough for your wellbeing to respect your time off. 
As a supervisor, here are some ways I work to support my team's mental health: 
Sharing community management.

Our community manager handles things Mon-Fri and then our whole team rotates responsibility for the weekends so that no single person — not even the official community manager — has to bear the burden of total connectivity alone. I need all of my team members to have opportunities to disconnect and take care of themselves, so we align on best practices and

standard operating procedures

and share the load. 

Compartmentalize

: Content and social media takes experimentation. If you're not constantly trying new things, you're not doing your job. When you try new things, you put yourself at increased risk of failure. While we are big believers in personal accountability, I can't have my teammates harshly criticizing themselves every time a post falls flat because that has a negative effect on their mental wellbeing

and

they'll lose the spirit of exploration and experimentation. We control what we can control and practice separating our self worth from the performance and result of every single piece of content. Instead, we measure the aggregate impact of all of our efforts on a monthly basis and objectively learn from the things that fall short.  

Timing of feedback:

One thing my first manager did well was evaluate if a piece of feedback needed to get to me on a weekend or if it could wait until Monday. Now, I try to protect my teammates' peace of mind whenever possible and especially when I know they are trying to rest by saving feedback that might

feel

important (but can actually wait) until Monday. 

Designated screen-free time.

I can't force my team members to do this, and I think I notice that the younger members on our team are slightly less likely to do this. Regardless, I constantly talk about the importance of disconnecting and encourage my crew to try things like official nightly shutdown times and putting your phone in a different room in the evening as you wind down so you don't mindlessly, mistakenly, reflexively grab it every five minutes. Personally, I like to leave it at home when I go for walks or outdoor activities. 
We asked our Strong Brand Social community how they disconnect and here are some responses we received: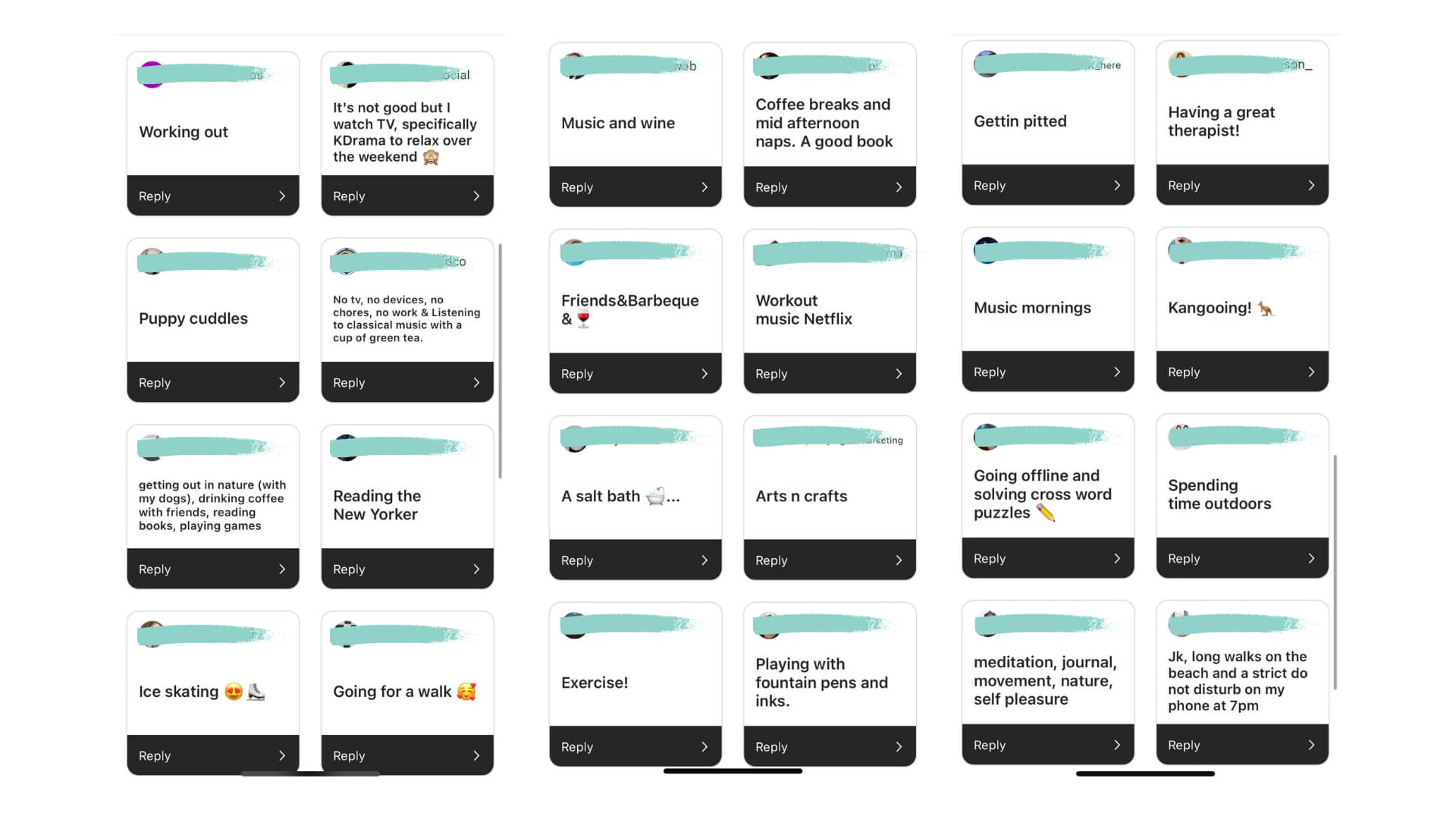 What's needed to be emotionally and mentally well is different for everyone and only you can find it for yourself. I also notice that what I need changes every few years: As my life shifts, so does my mental health practice. It's an ongoing process of commitment, evaluation, and investment.
That said, one thing's for sure: In order to honestly identify, feel, and invest in your own mental health, you need to create space between the digital world and yourself. Disconnecting from the noise offers the opportunity to rest your mind, hear yourself think, and observe what fills you back up. To invest in your wellbeing, unplugging is always the very first step. 
Here's to the ongoing practice of investing in yourself, your mental health, and your wellbeing in all of its forms. 💚
In your corner,
Katie