4 million people take to the streets to protest for climate justice…what happens next? America withdraws from the Paris Climate Agreement.
That was September, 2019, and it drives the point as far as it can go: It's easier to get capitalists, corporations, and even the most historically dirty industries on Planet Earth to engage in self-regulated reform than it is to get our government to protect our future. Brand Democracy—the theory that every dollar we spend as consumers is a vote for our values with an impact on our future—is one of the only things that I believe in anymore.
According to Edelman research group, belief-driven buying is at all time high. Using business as a force for good is officially beneficial to the bottom line. On the corporate marketing side of things, investments in content and social media will reach an all time high in 2020. So—and I'm just doing the math here—I'm pretty sure that means to be a real player brands must:
Have corporate responsibility programs that ensure they are operating within their values

Invest in storytelling about these values-driven programs
Easier said than done, but at least 100% possible.
In the past couple of years, Vermont's Seventh Generation has emerged as a global leader in using content as a force for good. With a brand promise to create a more healthy, sustainable, and equitable world for the next seven generations, it's no wonder that they felt it important to raise their voices during September's Global Climate Strike.
"When the youth climate strike was asking adults and businesses to show up alongside them, there was no way we weren't going to be involved," says Ashley Laporte, Seventh Generation's Director of Integrated Marketing. Ashley and I have a common interest in helping brands who want to do the work understand how to do it in order to have greater impact. So she agreed to speak with me on the how behind brand marketing for a triple bottom line. When you see quotations throughout the rest of this article, they're her words.
"350.org led the adult delegation for the global climate strike and, working with our in-house Advocacy and Movement Builder, identified two roles for Seventh Gen to play: One, call other businesses in and tell them why it's so important for them to take part in this moment. Two, educate our consumer base on the issue and to take action on the issue. We went all in; there was alignment up through our CEO, all the way down to every single person who works here."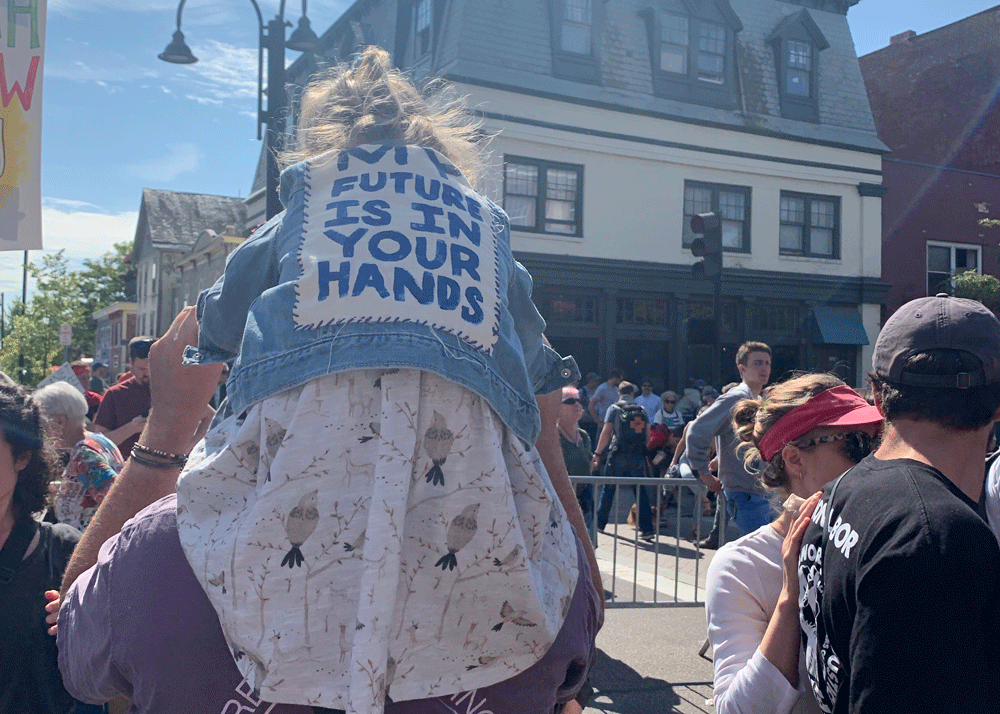 The company first made a commitment to close all global offices and strike alongside the students. Then, they asked the question what does the movement need the most? The response from 350.org and the youth contingency was about scale: "They needed to make sure this didn't appear as a fringe movement — a few kids missing school. We needed to mainstream it."
Seventh Generation invests millions of dollars every year in TV advertising. The week of the climate strike, the brand donated all of that TV air time to the movement. "350.org produced a commercial through some pro bono work by Futerra, and we aired that commercial around NBC's Today Show for the entire week leading up to the strike. We took out advertising in the Boston Globe, LA Times, Chicago Tribute, and out-of-home digital placements in three or four cities." In terms of performance, these tactics were successful. The brand reached millions of people in their campaign across TV, print, social, and other placements.
Overall the Global Climate Strike was a clear success. The global Youth Climate Movement's work resulted in 7 million people (at least) from 22 countries marched in the streets.  Including in places like Singapore and Thailand, where the consequences for speaking up are significantly bigger than they are in North America."
But how?
There's a solid foundation underlying Seventh Generation's ability to make nimble high-impact moves that throw their weight behind moments like the Climate Strike, National Period Day, or last year's Ready for 100 with Sierra Club. This includes an annual operating plan that has key performance indicators (KPIs) set against it with three distinct arms: Profitability, People and Planet. For the second two, Seventh Generation sets up "Advocacy goals". Advocacy refers to the change they seek to see in the world, in addition to corporate responsibility goals that are more closely related to how they formulate and package their products. At the end of the fiscal year, if they've met goals across all three categories, employees get their full bonus. If they meet profitability goals, but miss people or planet goals, they get a portion.
This structure influences decision making among leaders in Ashley's position. "If you take marketing as an example, we have an annual brand marketing investment (BMI), and because we are measuring profitability as well as impact on people and planet, we take that budget and divvy it up to meet each of those goals. What's important about that is that the ROI within a given year on advocacy investment might be lower than it is on laundry products. But because we set a goal at the beginning of the year that's aligned to advocacy, we invest in it. And that's how we can really operate as this triple bottom line business: being measured by our total impact on the world, not just how profitable we are."
Triple Bottom Line Curious?
What if you're in a less obvious place than Seventh Generation — you're triple bottom line curious, but haven't quite committed to goals other than profitability? "What we've been proving, alongside companies that are much smaller than us, is that if you take a stand on something and you do it authentically, people will follow. People want something to believe in. Nobody's trusting that the federal government's going to do it. They don't trust that traditional institutions are going to create the change that they seek."
I asked Ashley for her most valuable nuggets of insight for any business leader who, right now, has the opportunity to look at their business strategy and improve the manner in which business is done:
"G

et as specific as you can around what you're trying to achieve. It's hard work. If you don't get specific, you'll find yourself wasting a lot of time doing things

around

what you're trying to do but not actually getting it done."

"No one expects that once you identify the change that you seek, you're going to know how to have a systemic impact. Find the thing that you care about and then spend the time going to talk to other organizations, companies, nonprofits, scientists who are working in that space and do the deep issue research to understand what unique role you can play."
"On a practical note, one of the things that we learned quickly was about how we spend advertising dollars to get people excited about these issues. At first we treated the ad campaigns with all the best practices that we had from product campaigns, which was around driving awareness and being top of mind when people are going in-store to buy our product, but it does not work like that in advocacy. The strongest tool is to build word of mouth. We realized that an impression that came from an engagement was measurably more valuable than buying the impression. If we could get a couple of people to talk about it, and we were buying shares and likes over buying an impression, we have the ability to create virality from that. Building word of mouth through engagements, influencers, etc. are essential when you get into this space."
My takeaway?
The impact only grows if you're storytelling about it. But the marketing won't work if it's not a part of your greater business strategy. Once there's consistency around this type of message coming from your brand, there's coherency for the consumer, and this story becomes a critical part of their relationship with you—as important as the product itself.
As a social media consultant, I've watched countless clients make isolated philanthropic efforts and wonder why it "falls flat." If you're measuring advocacy efforts by profitability instead of top line brand growth and engagement, the effort didn't fail. Your effectiveness model is off. Baking this into your business strategy gives you the opportunity to get stakeholders on board, build accurate performance measurements and use content as a force for good.
If you've stayed with me this far, I'd love to know: What follow up questions do you have for Ashley? I bet I can get her to answer them ;).